DIAMOND DOGS TOUR 1974
 THE DIAMOND DOGS TOUR 1974
A VERY THEATRICAL SHOW !
as commented by Dave Thompson on his book
 'Moonage Daydream'
« '1984′ opened the evening, a single spotlight pickung David out of the blackness after the first verse. He stood
 in a Yves St Laurent suit, white shirt and bright red slippers, then began an awkward shuffle towards the centre of the stage.
Further lights picked out the 'Dogs'; former child actor Gui Andrisano, and Geoffrey Mc Cormack, now being introduced
under the singularly brillant  name of Warren Peace. The pair shadowed david throughout the show, performing sparse
 backing vocals and stunningly pulling off Toni Basil's intricate feats of choreography.
Earl Slick made a brief appearance at the end of 'Moonage Daydream', sensibly ignoring guitar passages indelibly associated with Mick Ronson and instead picking his own, intricate way around the rest of the band as the song raced towards its climax, and David raced backstage to prepare for the next song.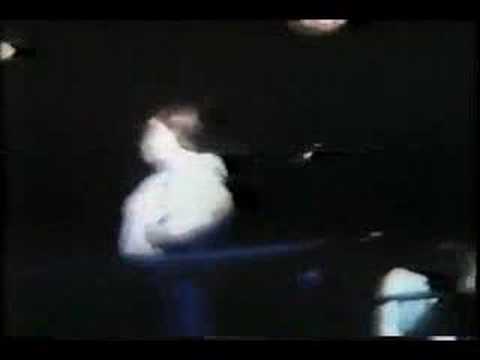 That was 'Sweet Thing', and david suddenly appeared twenty feet above the audience on a sodium-lit bridge, wearing an ill-fitting trench coat and puffing on a Gitane which dangled from his mouth ( a new age Sydney Greenstreet, one wag remarked).He watched the 'Dogs' cavorting below, leaning against a conveniently sited lamp post as he sang.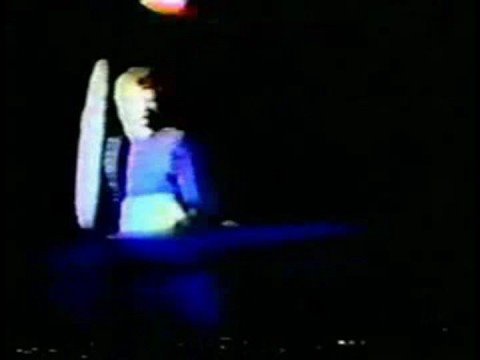 Mike Garson's bridge between that song and 'Changes' was the cue for David, now in shirt sleeves, and the catwalk to descend
earthwards, where he stayed for the next two songs.
 Another jerky dance routine at the conclusion of 'Suffragette City' was climaxed with David aiming a well-aimed kick into Warren Peace groin, sending him reeling backwards in theatrical pain.
As the introduction of 'Aladdin Sane' struck up, so the lightning bolt symbol built into one of the skyscrapers began to flash, stationary lights flicking on and off giving the impression of flickering movement . Gui Andrisano handed David  a Kabuki mask, plain white apart from that same red and blue lightning bolt. With the mask as his solitary prop, David ran the gamut of mime routines during the lengthy instrumental passages of the song, and then stood motionless while the 'Dogs' slung a red cape over his shoulders, placed a skull in his hand and shades over his eyes.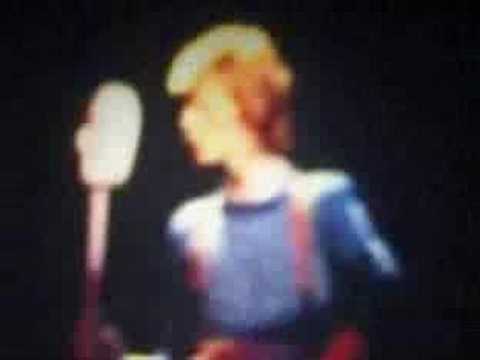 He was powered down and led to a stool, there to sing 'Cracked Actor', and as he did so, Gui took photographs and Warren scrawled supposed notes in his notebook. Their activities stopped when David first caressed, then French-kissed the skull. The two left the stage,returning seconds later with a pair  of spotlights which they manoeuvered to create strange and grotesque shadows across David's face as he performed.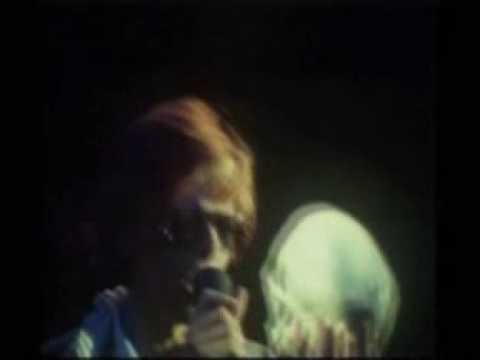 Then, dropping spotlights, they snatched away the props which only minutes before they had so lovingly handed him, and bounded offstage with them, leaving david alone to sing 'Rock'n Roll With Me'.
Part two of the show opened with a punchy 'Watch That Man', its arrangement now owing more to the Lulu-inspired revamp than
any David had previously performed. It was presented without props, and so too was 'Drive-in Saturday'.
David seated on a bar-stool and strumming an acoustic guitar, played the first verse on his own before the rest of the bandjoined in. The 'Dogs' sat to one side of the stage, munching popcorn and looking for all the world like a pair of young cinema-goers. David left the stage after that, handing his acoustic guitar to Earl Slick before darkness again enveloped the set.
Then a solitary searchlight focussed on Earl as he began 'Space Oddity', the lights slowly drifting acrossthe stage, up the phallus, and suddenly settling on David, now sitting comfortably in a tiny booth, singing into a red telephone. As the countdown reached its whispered 'Lift-Off', the entire theatrewas engulfed in blue light, flashing lights exploded around the auditorium and David, nonchalantly picking his nails, was lifted into space at the end of a long hydraulic arm concealed within the phallus.
'Future Legend' followed, the spine-chilling introduction to 'Diamond Dogs', its purpose apparently being to allow David the oppotunity to make a fairly unobtrusive return to earth before the next number, 'Diamond Dogs' itself. David opened the song from the catwalk, throwing a length of ropes down to the two dogs. Tying themselves to either end of it,they then paced the stage while the bridge brought David down the stage.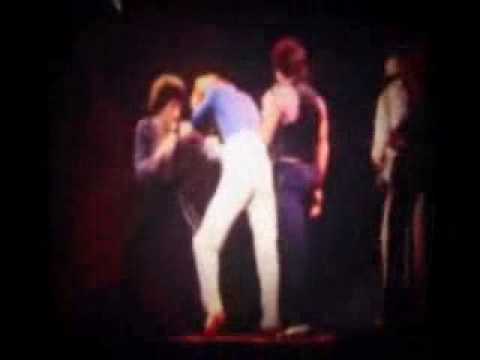 He took hold of the leash and began dragging the two dogs around the stage, finally losing control and allowing himself to be tied as the song closed. The two dogs then unravelled the rope and in so doing, fashioned a tiny boxing ring. Stuey George, David's long-suffering bodyguard, appeared to hand him a pair of large red boxing gloves in which to fight his way through 'Panic In Detroit'.
In between rounds, David would collapse onto a stool while Stuey fanned him down. The number ended,incidentally, with David's imaginary opponent coming out on top, and a convincingly battered David was led offstage by Stuey(Paul Ravitz's initial suggestion for this number, incidentally, was for David to run through the cityscape with a machine gun.Toni Basil apparently rejected this as it afforded little scope for creating a genuine spectacle, which the boxing bout certainly provided).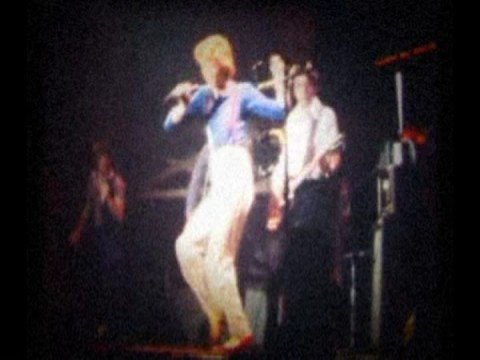 As 'Big Brother' was piped through the PA, the large diamond, hitherto unmoving, slowly glided to the front of the stage. There it was unceremoniously savaged by the dogs while David, reclining gracefully across the jewel, sang into a microphone built into the top. As The song ended, David disappeared into the diamond and by the time the dogs had clawed it open, the singer was nowhere to be seen, and in his place was a giant black hand. This descended, revealing David crouching tightly within the palm.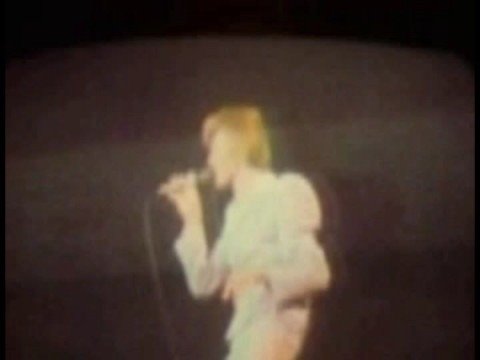 As he sang the next number, 'Time', so the hand descended to stage level, displaying a glittering staircase for David to walk down.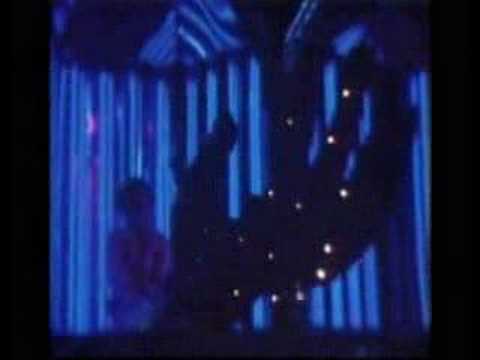 As had been the case almost since the song's introduction into the set, 'Width Of A Circle' which followed was accompanied by
David's familiar box mime. At the end, unable to find a way through the invisible barrier, he collapsed, crawling towards the wings on hands and knees. Instantly the dogs pounced, dragging him back to stage centre and sitting him down, handing him a white hat, a cane and a smouldering cigarette, and pulling chairs up for themselves.
Then there commenced a frenetic round of musical chairs which developed, against the pounding music of 'Jean Genie', into a wrestling bout and then a street fight.Giant spotlight positioned in front sent massive shadows careering crazily across the skyscrapers behind them. Again David collapsed and this time the dogs simply threw him back into the chair, powdered him down and left him alone while he performed the final ritual of the evening,'Rock'n Roll Suicide'« .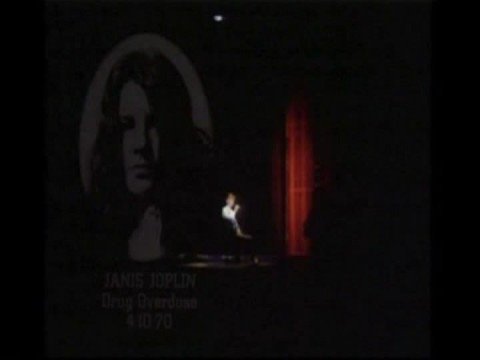 LA TOURNEE 1974 :
UN SHOW TRES THEATRAL !
Si on vous demande quelle est la plus fabuleuse tournée qu'ait entreprise David Bowie dans toute sa carrière, c'est sans nulle doute la fameuse tournée « Diamond Dogs » en 1974 !
Il n'en existe malheureusement pas grandes traces pour nous montrer aujourd'hui ce à quoi ressemblaient vraiment ces shows dans leur integralité. Seuls quelques extraits diffusés à la télévision en de rares occasions, ainsi que de non moins rares extraits filmés en Super-8 en donnent une légère idée…
J'ai entrepris de traduire en français, approximativement, je précise, un extrait de l'excellent livre publié sur l'artiste, « MOONAGE DAYDREAM », et qui décrit en détail et chronologiquement un show de cette tournée :
     » 1984″ ouvrait le show : un unique spot éclairait David surgissant de l'obscurité après les premiers vers. Portant un costume Yves Saint-Laurent, une chemise blanche (dans la première partie de la tournée, il s'agissait d'un pull bleu constellé de petites étoiles blanches…) et des chaussures rouge vif, il esquissait de drôles de pas vers le centre de la scène.
D'autres cercles de lumière se focalisaient sur les « Dogs » : Gui Andrisano et Geoffrey Mc Cormack (présenté sous le surnom de Warren Peace). Ceux-ci suivaient David tout le long du concert, tenant une partie des choeurs et excellant dans une chorégraphie délicate et minutieuse de Tony Basil.
Le reste du groupe restait caché derrière l'immense décor de gratte-ciels zébré rouge sang, « HUNGER CITY ». Seul Earl Slick faisait une apparition furtive, à la fin de « Moonage Daydream », ignorant délibérément les solos de guitare à la Mick Ronson, préférant innover en utilisant les siens. David en profitait alors pour rejoindre les coulisses et se préparer au morceau suivant.
« Sweet Thing » suivait : David apparaissait soudain six mètres au-dessus de la scène, perché sur un pont éclairé par des ampoules au sodium. Portant un trench-coat banal, il tirait nonchalemment sur une Gitane qui pendait de sa bouche, regardant, en s'agrippant à un lampadaire, les « Dogs » qui s'agitaient plus bas.
Mike Garson enchaînait dans la foulée avec « Changes », signal qui permettait à Bowie de rejoindre la scène, le pont redescendant doucement. Sur « Suffragette City », il esquissait à nouveau quelques pas de danse et l'apogée était atteinte au moment où David mimait un coup de pied au visage de Warren Peace (« Wam Bam, Thank You Mam ! »). Celui-ci roulait alors en arrière dans une douleur très théâtrale…
Sur l'intro d' « Aladdin Sane », une série de flashs éclairait le symbole de l'éclair qui zébrait un gratte-ciel. Gui Andrisano tendait à David un masque Kabuki gimaçant et zébré du même éclair rouge et bleu (figurant le Ziggy de la pochette d'Aladdin sane) fixé au bout d'un bâton. David enchaînait alors des séquences de mime pendant le long solo de piano du morceau, pour enfin s'immobiliser.
Les « Dogs » déposaient alors une cape rouge sur ses épaules et plaçaient un crâne factice dans sa main. Une paire de lunettes solaires complétait ce portrait de Hamlet rock désormais fin prêt à interpréter « Cracked Actor », assis sur une chaise d'acteur.  
Pendant ce temps, les « Dogs » prenaient des photos et des notes sur un calepin, s'arrêtant net lorsque David se mettait finalement à caresser puis embrasser goulûment le crâne !
Quittant brièvement la scène, ils allaient chercher deux projecteurs qu'ils manoeuvraient et qui projetaient des ombres grotesques sur le visage de David. Les éteignant finalement, ils ôtaient enfin tous les accessoirs sans ménagement.
La scène maintenant totalement débarrassée, David restait seul pour interpréter « Rock'n Roll With Me ». Suivait un énergique « Watch That Man », puis David quittait de nouveau la scène maintenant plongée dans le noir.
Earl Slick réapparaissait seul, éclairé par une unique « poursuite » et jouant l'intro de « Space Oddity ». Le cercle de lumière remontait ensuite doucement vers le haut et le fond de la scène, s'arrêtant sur David, assis sur une chaise, et chantant au travers d'un combiné de téléphone rouge. A la fin du fameux compte à rebours et du « LIFT OFF! », la scène s'enveloppait de bleu, et une explosion de flashs emplissait la salle. David se triturant nonchalemment les ongles, s'envolait alors au bout d'un bras hydraulique en survolant les premiers rangs du public. 
« Future Legend », intro de « Diamond Dogs », était diffusée par les hauts-parleurs, alors que David en profitait pour quitter la chaise et son bras articulé. Apparaissant maintenant au sommet du pont, il lançait une longueur de corde aux « Dogs » qui, s'attachant avec, déambulaient le long de la scène. S'emparant alors de la corde, il les maintenait à distance, pour enfin perdre le contrôle : c'est lui qui finalement se faisait prendre et lier par la corde, restant immobilisé à la fin du titre.
Les deux « Dogs » récupéraient la corde pour en confectionner un ring. Stuey George, alors garde du corps de Bowie, apparaissait et lui tendait une paire de gants de boxe rouges. Suivait un combat imaginaire pour « Panic In Detroit »,  David faisant mine de s'évanouir après chaque round : Stuey réapparaissait alors, faisant office de soigneur. Le morceau s'achevait par la défaite de Bowie qui était évacué de la scène. 
Pour « Big Brother », une énorme boîte en forme de diamant aux faces faites de miroirs s'avancait vers le milieu de la scène. Alors que les « Dogs » s'y acharnaient avec une certaine sauvagerie, Bowie s'appuyait avec grâce, chantant à travers un micro fixé à son sommet. Pour la conclusion du titre, David disparaissait à l'intérieur. Lorsque les « Dogs » parvenaient enfin à ouvrir la boîte, il n'y avait à l'intérieur qu'une énorme main de velours noire dressée vers le haut.
En descendant, celle-ci révélait un Bowie délicatement assis dans sa paume, enchaînant sur « Time ».
De retour sur scène pour « Width Of A Circle », il reprenait la fameuse séquence de mime de la période Ziggy, celle du personnage prisonnier dans une boîte qui trouve soudain une ouverture et qui s'en échappe en prenant son envol…
Sauf que là, David ne trouvait pas la sortie à travers la barrière invisible : c'est alors qu'il feignait l'évanouissement.
Instantanément, les « Dogs » ressurgissaient et le ramenaient vers le centre de la scène où ils l'asseyaient, lui tendant un chapeau blanc, une canne, ainsi qu'une cigarette allumée. Eux s'asseyaient sur deux chaises et s'ensuivait alors un jeu de chaises musicales, prenant, au fil de « Jean Genie », des airs de bataille de rue.
D'énormes projecteurs situés face à la scène faisaient follement tournoyer des cercles de lumière sur les façades des gratte-ciels et Bowie finissait par s'évanouir de nouveau.    
On l'asseyait une dernière fois sur une chaise et, ayant feint de le démaquiller, les « Dogs » quittaient définitivement la scène, laissant David seul pour « Rock'n Roll Suicide » qui clôturait le show… »
This text I translated in French form is in English in its original form and is from the excellent book about David's career  »Moonage Daydream » by Dave Thompson.